Why is Klutts Property Management the Best Rental Home Manager in Charlotte NC?
Complete Full Service Charlotte Property Management.  It's All We Do!
There are several reasons that set us apart from other residential property management companies in Charlotte, NC.  We've rented and managed thousands of homes in the Charlotte Metro area over the last half-century.  Our knowledgeable staff is very friendly and professional. We are very proud to say our Office Manager has been with us for over 30 Years.  Our homeowners trust us to find the best possible resident for the highest possible rental amount. We deliver with the goal of getting the most value out of your property.
When you hire our Charlotte property management specialists to market your residential rental property, we'll remove your headaches. Although we manage close to a thousand local residential homes, we're always committed to making each of our homeowners our #1 priority. Our diverse, talented property specialists employ all proven methods to attract the right clientele to meet your needs and budget in the quickest time possible. Contact Us with any questions.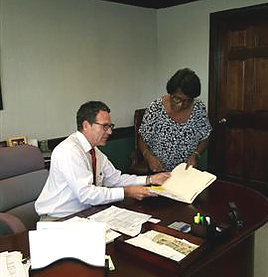 Looking for a property management company in Charlotte?
Choosing a property management company is a tough decision for most people investing in real estate. Other investors couldn't dream of putting up real estate without ensuring there is a property management company in mind. However, there are still other people who still have a fixed mindset and prefer managing the property on their own, but sadly they don't end up achieving 100% success. Few people understand what understand what property management companies do. To give you an idea what property management companies can do, and why you should consider choosing Klutts Property Management, we compiled the following piece.
We Carefully Choose our Rental Tenants Providing the Best Tenant Care
Once you rent your real estate property with Klutts Property Management, you will rest assured that your property is in safe hands. Our staff is comprised of professional property managers, who ensure rental tenants are carefully chosen.
We believe that tenants partake in taking care of your property on a day to day basis, due to this we ensure tenant screening takes place before renting your property. This screening consists of verifying earning and employment documents, consulting their past landlords and reviewing their credit history. We also prepare specialized lease agreements to ensure property owners do not fall into legal troubles.
We are always dedicated to ensuring that we maintain a professional and friendly relationship with our tenants, to ensure they are comfortable and in a position to communicate when experiencing problems. When you decide to choose Klutts Property Management, to manage your property, we make it our own home and ensure repairs, tenant issues and maintenance are treated urgently.
Services we provide here at Klutts property management systems
With the help of our property managers and dedicated staff, a wide range of services is available for all our clients. Our services include
• Handling Rent Collection
This maybe is the most apparent tasks of property management companies. Whether it is a single family residence or a property cohabited with multiple families, we at Klutts Property Management ensure you receive rent from all your tenants on a monthly basis
Overseeing Bookkeeping Services
This is the most unexciting work for many real estate investors, however the most crucial of all. Bookkeeping and handling invoices are vital for minimizing losses, minimizing tax and adequate cash flow. Klutts Property Management manages all your accounts maximizing your profits.
Handling Bill Payment
Klutts Property Management provides tenants secure channels for paying all their bills.
Handling Maintenance Repairs
Klutts Property Management can help you coordinate repairs and maintenance on your property whether it is lawn care washing roofs, and many other services to ensure your property does not violate code violations.
Handling Emergency Maintenance coordination
You don't need to worry about emergency maintenance calls from your tenants. These calls can be a pain in the neck for landlords. Klutts Property Management ensures responsive and rapid customer service. We ensure emergency repairs are handled 24 hours a day, seven days a week to optimize customer satisfaction.
Annual Property Revaluations
Depreciation of property is inevitable, and regular evaluation and inspection is required. Klutts Property Management can source a professional appraiser to inspect and evaluate your property.
Eviction Services
In case you are double guessing one of your tenants, Klutts Property Management can help you evict the client without going through the hassles of legal complications.
Marketing your Property
Advertising your property is probably the most valuable service Klutts Property Management good management company offers. We take the responsibility of marketing, showing units and screening potential renters.
Rental Agreement and Lease Preparation
Drafting a lease is crucial when renting out your property. Klutts Property Management helps you compile a rental application and a leasing contract. This ensures loopholes are sealed to prevent any legal complications.
Screening your Tenants
This is the most challenging part, ensuring your property has the right tenants. Here at Klutts Property Management, we ensure we evaluate all potential tenants before renting it out.
Managing all Tenant Deposit
Klutts Property Management assesses your property before a tenant vacates the house. We ensure the security deposit is well allocated to the maintenance fee.
Maintaining Tenant Relations
Klutts Property Management liaises' with your HOA board to ensure leasing and property rules are correctly enforced.
Maintaining Community Property
Klutts Property Management also manages all your community property such as swimming pools or gyms, ensuring common areas are easily accessible by all your tenants.
Asset Management
If you are a real estate owner who has multiple properties, Klutts Property Management can manage all your assets efficiently
Dealing with Defaulters
You will always encounter defaulters; they may pass the due date for months and months, and this can be frustrating for any landlords. Police, court cases can be involved Klutts Property Management handle this for you, saving you time and reducing stress. We will prevent you from malicious tenants.
We Buffer you from any Liability
This is one of the most significant advantages and the best reason why a property owner hires a property management company. Even if you practice the best screening measures and follow all the rules in the book, messing up in the real estate sector inevitable. There are some tenants whose primary goal is taking out landlords, by exploiting all loopholes at their disposal. It is easy for opportunistic tenants to raise false claims about your rent collection methods, eviction practices and negligence.
We at Klutts Property Management deflect most of the challenges just like a shield.
Trust us for Overall Management of Your Property
If you are into investing and want healthy profits, you can count on our property managers to ensure all your accounts, fees, taxes, and assets are in check. Our job is to make your life easy as we handle all aspects of property management from finding tenants to providing you with all your financial records
By hiring Klutts Property Management company, we will ensure you avoid the hassles and challenges faced by most property owners.
If you are interested in learning more about our management services feel free to contact:
Klutts Property Management
704-544-1111
1433 Emerywood Drive Charlotte, NC 28210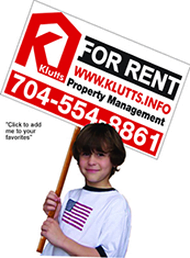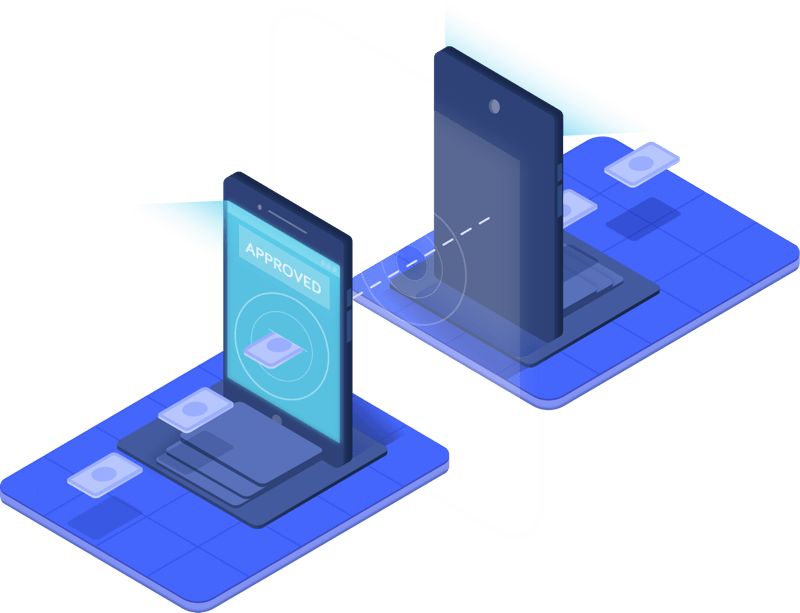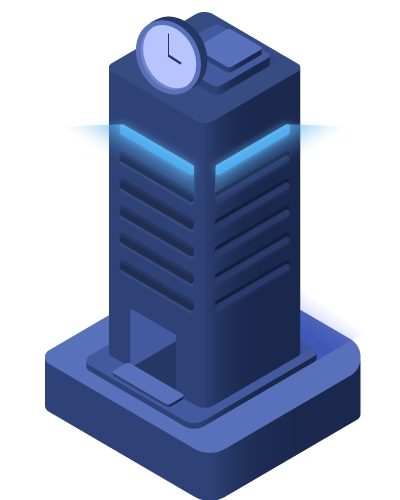 We Use The Most Effective, Proactive Rental Property Marketing in Charlotte, NC:
There are many ways to market a rental property. Klutts Property Management focuses on proven methods to make sure your property stays rented with great residents that treat your rental home as their own house. We use the following methods to ensure that your property is expertly exposed to the rental market as soon as possible.  Here are some of our methods:
highly visible signage
That includes special camera codes allowing potential renters to take a picture when driving by and then use the image to immediately view all home details from any location.
24/7 Agents
A direct phone line for all potential clients to speak with real, qualified Leasing Agents, 24/7
Automatic Updates
Dozens of constantly updated national websites that update in minutes with your property's info
Reports Portal
State-of-the-art rental property software which allows you to run your own reports via our online portal.
Instant Aplications
Online rental applications tied directly to your vacant rental home monitored 24/7 applications for your rental home can be filled out and approved from anywhere.
Renters Can Pay Electronically
Deposits and monthly rental payments can be made directly using the Internet
Google Maps Integration
Full use of Google Maps® and Google Earth® to help potential residents find homes in the areas they want to live
Contractor Relationships
We offer and manage contractor referrals to property owners to reduce your cost and help generate the maximum rental amount for your rental home. We continuously renegotiate with quality subcontractors who are price sensitive to our property owner's needs.
A Team of Dedicated Professionals
A leasing team with decades of lifelong real estate experience living in the Charlotte and Mecklenburg County area  with astute awareness of current market conditions to make sure your home rents for the highest possible amount.
We Are Always Available
With most companies taking the weekend off, we're still here answering the phones to rent all vacant properties. Klutts Property Management realizes that activity is often most demanding during these days so we want to make sure we are available to show possible tenants properties at a time that is convenient for them.
owners looking for property management, What does a property management company do, Charlotte
Charlotte Property Management for Owners
Please call us at any time to discuss your rental management needs. Would you rather ask your questions through our form, please feel free to do so!.
Property Owners Inquiry
Tel:  704-544-1111 Fax: 704-553-2256
1433 Emerywood Drive Charlotte, NC 28210
Renting Guide
Here is a link to our rental guide for property owners
[/db_pb_accordion]